Real Happy Customers
So Happy!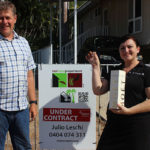 Dear Julio
I want you to know that I am so happy with the service you have provided.  Infact, your diligence and efficiency is second to none.
You have made my whole buying experience so easy and so painless.
I am so impressed with your service and will recommend you and your company to everyone that I know.
I have looked at a few properties over the last 4 months, and you are the only Property Expert that has followed up my inquiry and then helped me though the buying process.
I am so grateful that I have both of you on my side and helping me every step of the way.
Thank you so much Julio, and I wish you a wonderful holiday away.
Kim
Fantastic
Thanks for all your help you have been a fantastic real estate agent to deal with and to buy my 1st home with. I can recommend you guys you are a great family business and I look forward to dealing with you guys on the future.
Alex
Some of our real happy customers!
YOUR SAFETY
We can book a private viewing for you any time, offering all the safety standards required by the government regarding CV-19.
First Home Owner DISCOUNT
First time buyers can SAVE SAVE SAVE with this revised Government initiative. See details or contact Julio to find out how to apply.
See All Properties